We take the threat of Covid-19 very seriously. Between guests the entire house is disinfected using a "Botstar" machine. The Botstar uses ozone (O2) to purify the air throughout the house and thereby disinfect all surfaces. Its functions include: the elimination of dust, mites, parasite eggs, viruses and other microorganisms; the deep cleaning and vacuuming of beds, mattresses, pillows, duvets and furniture; and the deep cleaning and washing of carpets, rugs, curtains, sofas, upholstery, floors. In addition, the house is thoroughly cleaned between lets by our faithful cleaner, Mari Ángeles.
We provide disinfectant gels as well as soap in both bathrooms and in the kitchen/living area.
You can holiday in Villa Indiana confident that you are staying in one of the cleanest places in town.
The lounge and the bedrooms have air-conditioning, although we never use it as we keep the house cool in other ways. Electricity is very expensive in Spain so we try to be careful.
The whole house and parts of the garden are covered by WiFi, which is free of charge.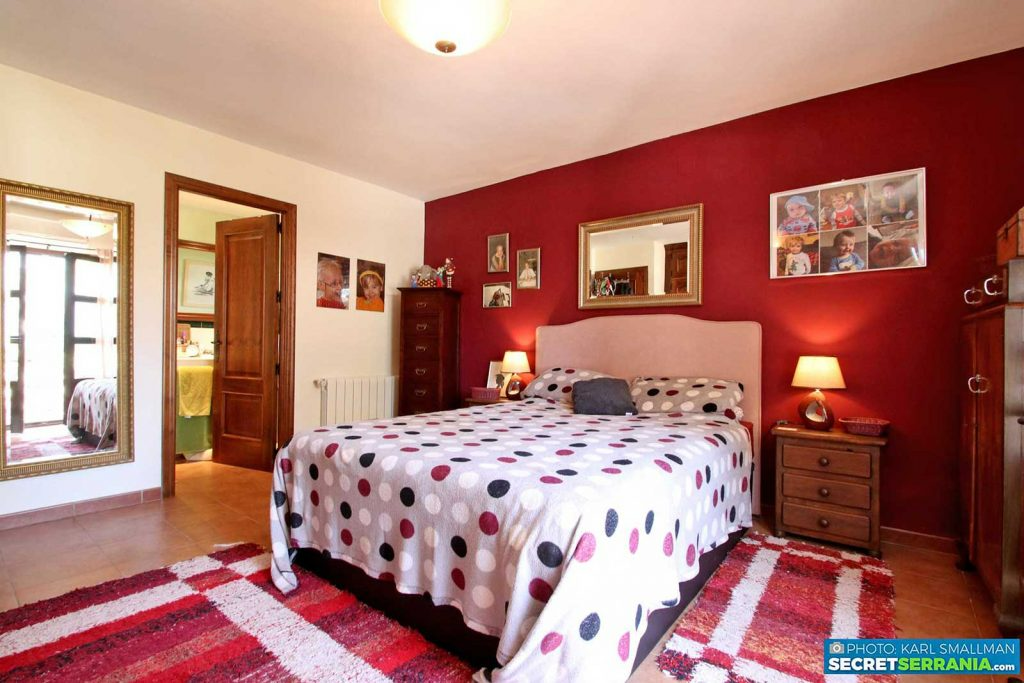 The accommodation offers two double bedrooms, each with a double bed. The main bedroom, ours, has a brand-new king size double bed, an ensuite with a large walk in shower, WC and "his and hers" washbasins. The bedroom has its own private terrace, la Terraza de Rita, which overlooks the pool and gardens. There are a table, six chairs and a sun umbrella. A delightful spot to enjoy breakfast al fresco.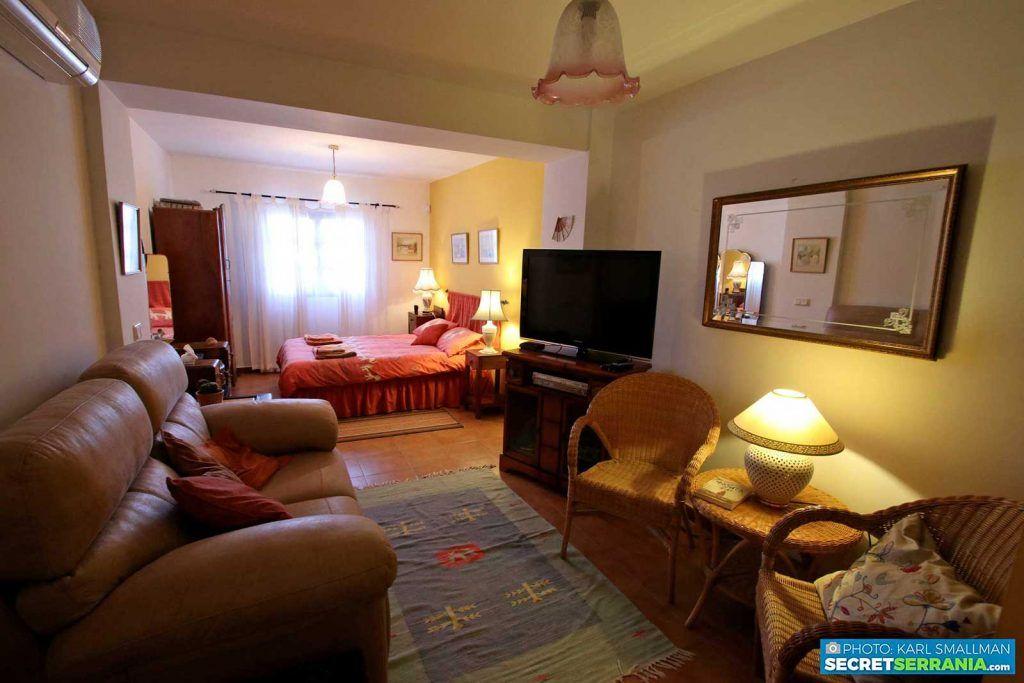 The second bedroom is more like a suite with its own lounge area and flat-screen TV offering UK and German channels via satellite. The bedroom area has a UK double bed, antique WW2 bedroom suite (Paul's parents' wedding present to themselves in 1948) and the lounge area has a brand new sofa, a cane table and two armchairs and the TV. There is space for two single beds for up to two children, by prior arrangement with us.
Our study is off-limits, although we could be persuaded to put a child bed there, again only by prior arrangement.
The main bathroom is adjacent and offers a complete bathroom suite including a full size bath with shower over, washbasin, WC and bidet. There is an ample supply of towels both for indoors and for the pool/beach. Shower gel, shampoo, soaps, toothpaste, etc are provided.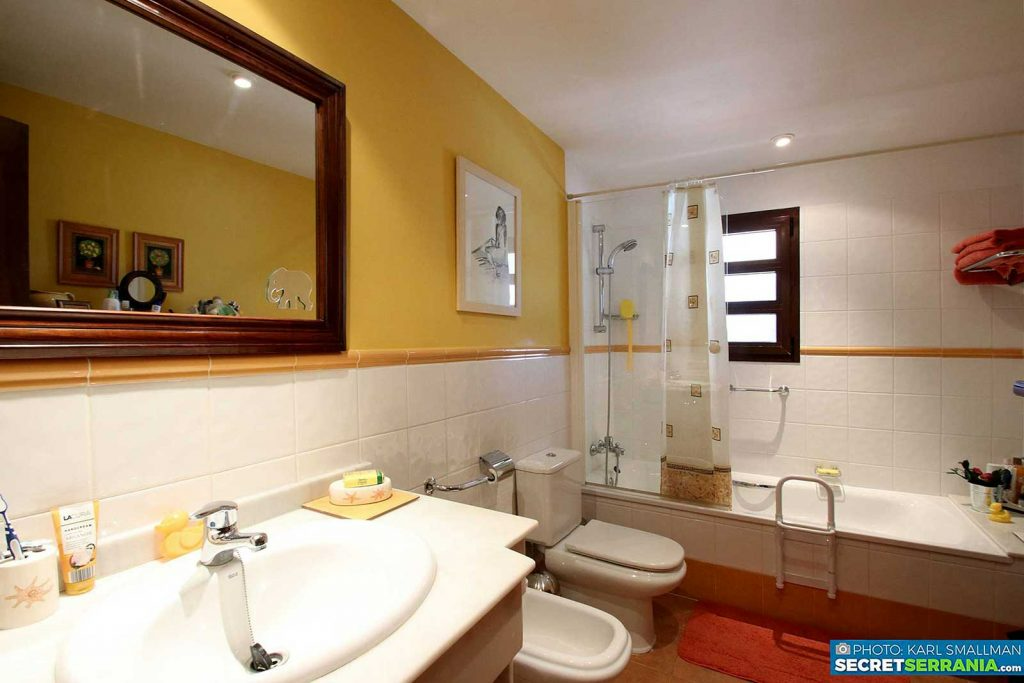 The living area offers a large lounge with two new recliner sofas and a flat screen TV, a stereo system and a library with an extensive range of books, CDs and DVDs in English, Spanish and German. Guests are welcome to make use of these. A recent addition to the facilities is a Bluetooth speaker. There is also a selection of board games, playing cards and jigsaw puzzles for you to enjoy.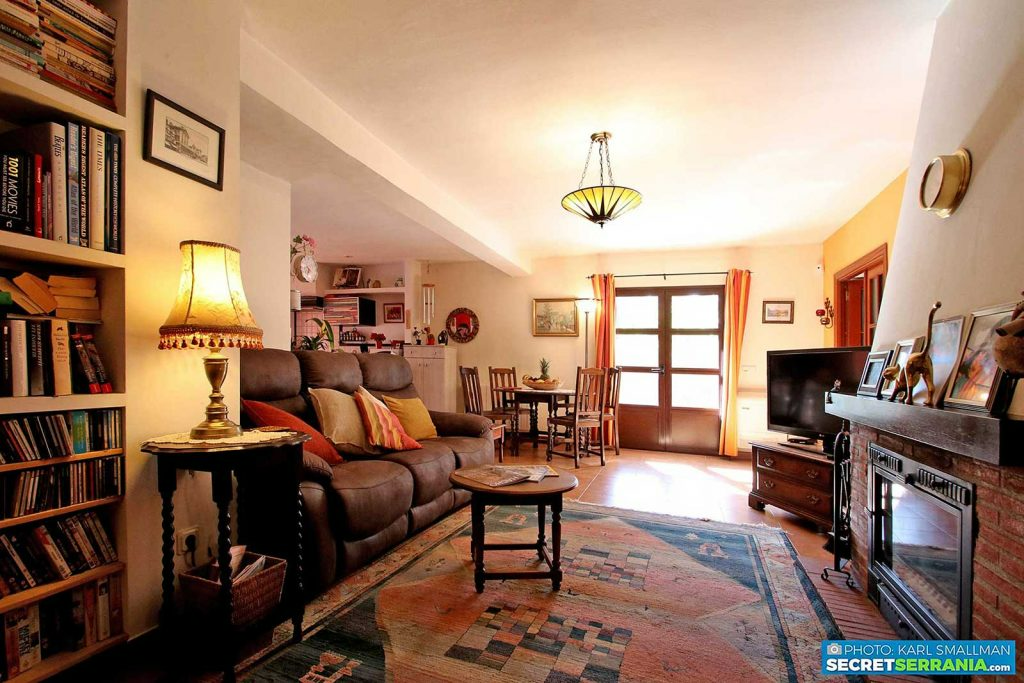 At one end of the lounge there is a dining area for use if it is too cold to eat outside.
The kitchen is large and open plan with two fridges, oven and hob, microwave, coffee machine and dishwasher. All the expected kitchen appliances are there, as well as basic foodstuffs like condiments, spices, oils, rice, flour, pasta, etc. Feel free to use anything, but if something runs out, please replace it, so that the basic inventory is maintained for other guests. As required by the authorities, there are a smoke alarm, CO detector, fire extinguisher, fire blanket and first aid kit.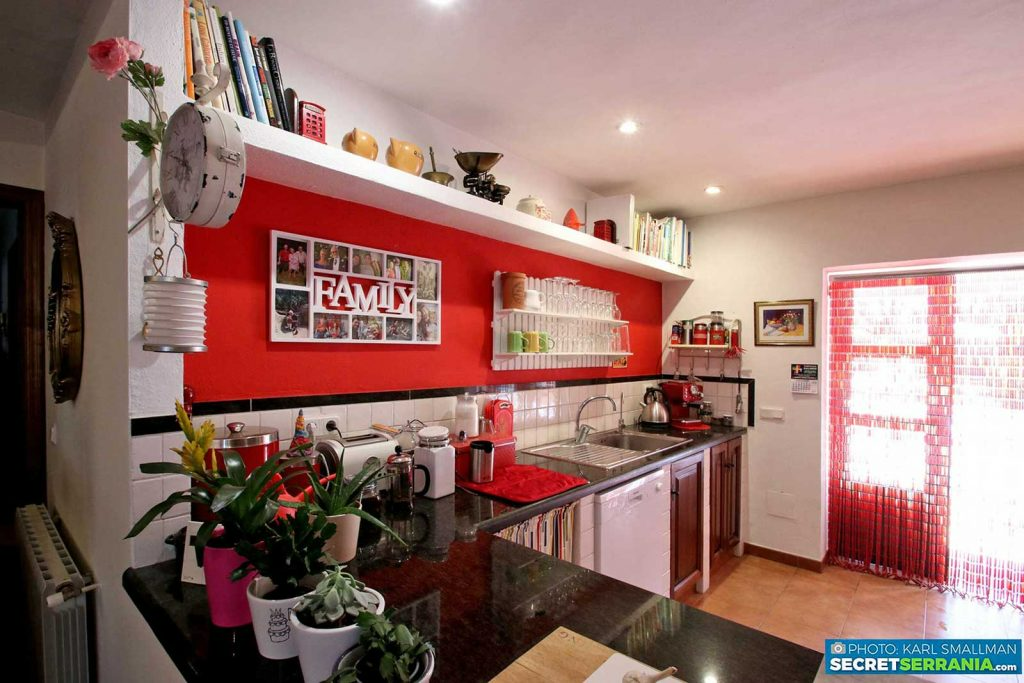 The dining room is off the lounge but will not be available to guests, as we need somewhere to store our very special personal items, clothes, etc. But who needs a dining room inside when there is an enormous covered terrace to the rear of the house, as well as other terraces and nooks and crannies for enjoying the sun or shade? As mentioned before, we have created a dining area if you prefer to eat inside. There is a built-in barbecue on the side terrace, with charcoal, fire-lighters and tools provided.
The main terrace, la terraza de sombra, has a table and six chairs, a lounge area with a cane table, cane sofa and two cane armchairs. There is a bar, as well as cooking facilities and an outdoor drinks fridge.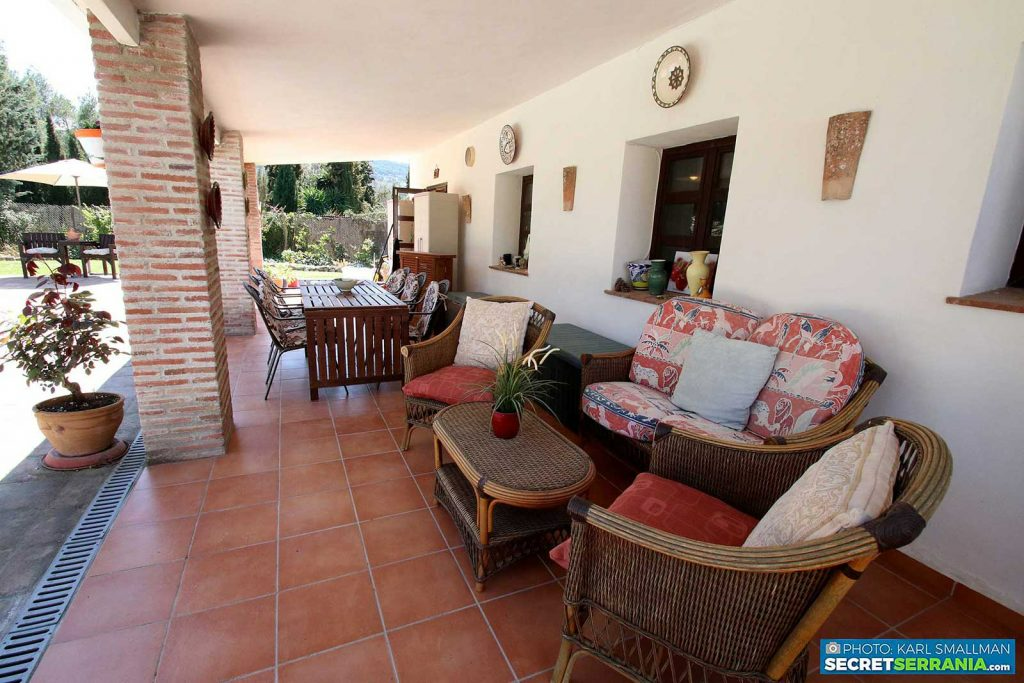 The swimming pool measures 9m x 3m approximately and is kept clean using ozone from a newly fitted ozone unit. The pool boy, José, comes every other day, or by arrangement, to clean the pool for your convenience, and to water the many flowers, plants, vegetables and bushes. The pool enjoys its own secluded terrace area, la terraza de la piscina, with garden furniture, including sun loungers, tables, sun umbrellas and a hammock.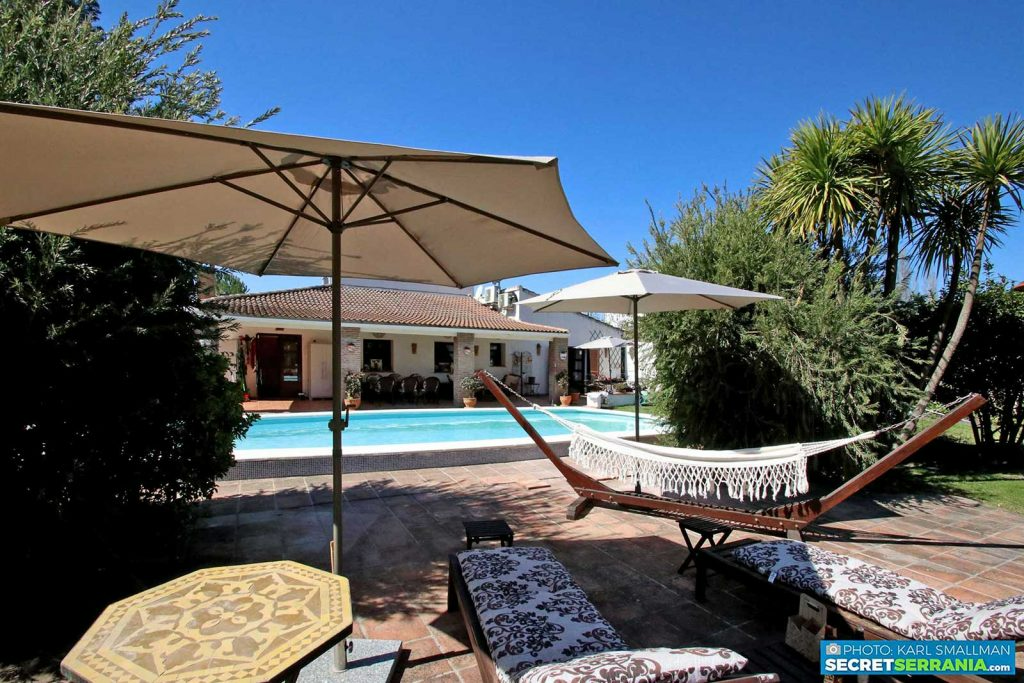 At the rear of the garden is a pista de pelota or boules piste. We have several sets of boules to suit all ages.
For children and the young at heart there is a trampoline, a slide, a set of swings, a sandpit and assorted ride-on vehicles, as well as garden games and toys.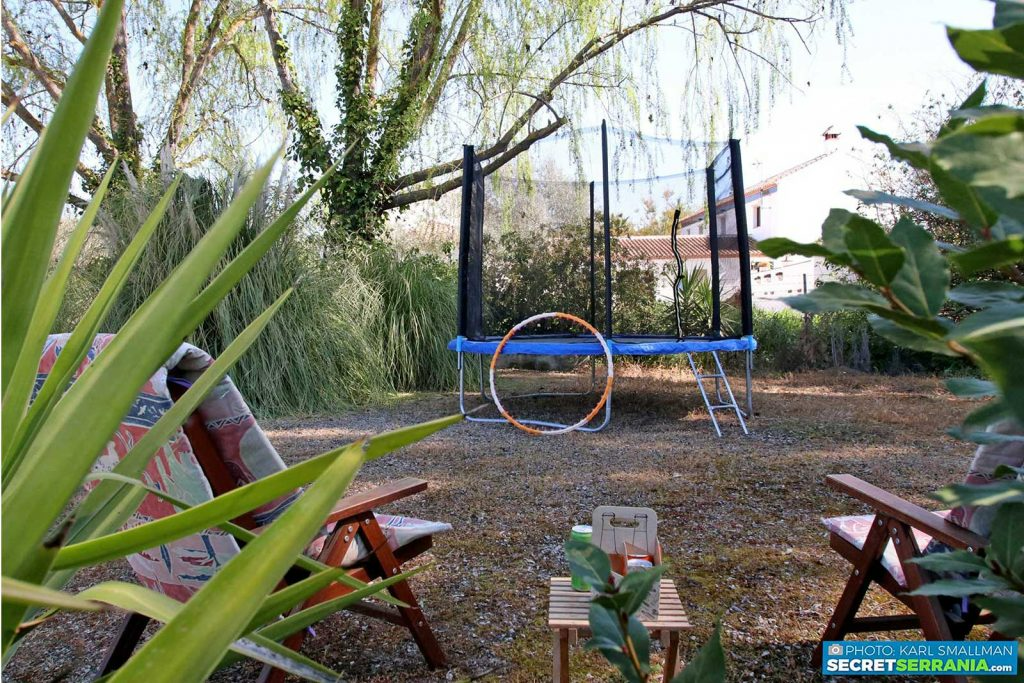 Our gardener, Rafael, comes once a week to mow the lawns and to tidy up the garden. He has an allotment in our adjacent field. If you play your cards right, he may offer you vegetables and salad items in season. You can also help yourself to any vegetables that are ripe in my raised beds in the garden.
There is a large terrace, la terraza del sol, to the front of the villa for soaking up the afternoon and evening rays. It has a table and four chairs, two sun umbrellas, as well as other seating.
To the south side are two small seating areas, el patio andaluz and el patio árabe, where guests can escape to read a book, do a crossword or have a siesta.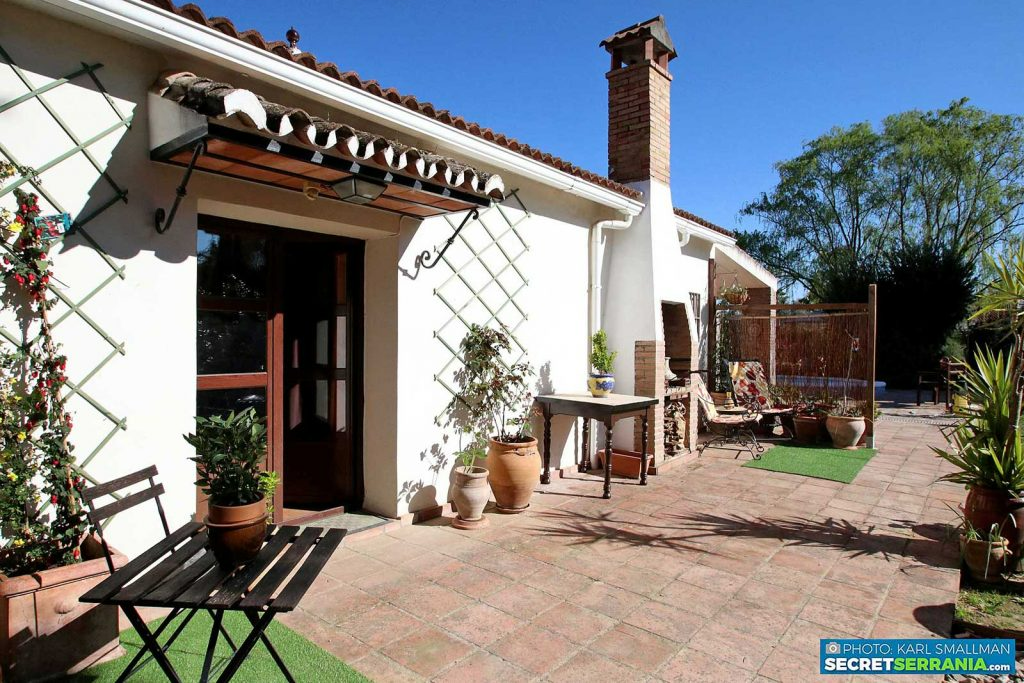 There is plenty of free parking available on the road outside, as well as one space under the carport on the drive.
The garage is our storeroom-cum-washroom-cum-pantry. There is an upright freezer, a washing machine, tumble dryer and a traditional Spanish pila sink with hot and cold water. Also a "Raystar" machine which provides ozonised water for cleaning and for the washing machine. As a result we are a virtually chemical-free zone.
Cleaning before and after your stay is included in the price. Extra cleaning and fresh bedding and towels can be provided for a nominal charge of €50 per time.
Prices (fully inclusive – no extras*)
June – August 2022
NOTE: THERE ARE NO REMAINING DATES FOR 2022
Per night (minimum 5 nights) €280
One week €1,750
Two weeks €3,000
Three weeks €4,500
One month €5,500
* Extra cleaning and fresh bed linen and towels are available on request for an extra charge of €50
Payment is by transfer to our Spanish bank account. Details will be provided when you make a booking.
How to book:
Fill in the contact form or contact a1-holidays direct on (+34) 636 52 75 16 or email info@a1-holidays.net
Local amenities
There are two restaurants within walking distance, one Spanish, La Posada de Ronda, and one British-owned, La Cascada. The latter, owned and run by Ian and Elaine Love, is well-established and is one of our favourites in the whole of the Ronda area. How fortunate that Villa Indiana is only two minutes' walk from it!
There are also good restaurants in nearby villages:
Restaurante Audalázar, Atajate
El Muelle de Arriate, Arriate
Hotel Molino del Santo, Estación de Benaoján
Restaurante Entre Ascuas, Montejaque
Restaurante Venta El Puente, La Indiana
In Ronda, our current favourites are:
Restaurante La Cascada, Fuente de la Higuera, Ronda
Restaurante Las Maravillas, Carrer Espinel (Calle La Bola)
Il Forno a Legna, pizzería, Calle Nueva
There are four vineyards within a stone's throw of the villa. One, Badman Wines, is our next-door neighbour, and another, Bodega Joaquín Domínguez, is 5 minutes by car. Each offers wine tours with tastings and tapas (charged). See https://www.secretserrania.com/2020/12/days-of-ronda-wine-and-roses/
Ronda is seven minutes away by car. For us, Ronda is one of the best cities in Andalucía. It's simply stunning and the main reason we came to live here permanently many years ago. See https://www.secretserrania.com/2021/03/ronda-city-of-dreams/ and https://www.secretserrania.com/2021/01/andalucias-3-cs-cadiz-cordoba-ciudad-sonada/ and https://www.secretserrania.com/2020/08/the-most-stunning-place-in-spain/ and https://www.secretserrania.com/2020/07/help-help-me-ronda-why-is-this-stunning-mountain-town-in-spain-so-special/
There are lots of walking routes in the vicinity. There are two excellent walking guidebooks in English in our library: Walking in Andalucía by Guy Hunter-Watts and Walking in the Ronda Mountains by Tony Bishop and Eva Monica Bratek. Please feel free to use them.
Cycles are available to hire, guided or non-guided. We can recommend two local companies, Hike and Bike the Sierras and Andalucían Cycling Experience. Both are British-owned and well-established.
Horse riding is offered by Paddock Paradise Ronda.
Other activities include paragliding, hot-air balloon rides, jeep safaris, quad-biking, canyoning and many more.
The nearest beach (San Pedro de Alcántara, Costa del Sol) is an hour away. The nearest nice beach (Bolonia, Costa de la Luz) is a 2 hour drive away.
There are Roman remains at Acinipo (10 minutes), Málaga (1.5 hours) or, best of all, Baelo Claudio, at Bolonia, Costa de la Luz (2 hours).
The pueblos blancos of Málaga and Cádiz provinces offer beauty, tranquillity, stunning scenery and authentic tradition. Our favourites are Montejaque (our second home, pretty, tranquil and friendly), Grazalema (stunning scenery and great walks), Zahara de la Sierra (beautiful views), Setenil de las Bodegas (cave dwellings and views), Jimera de Líbar (live music and international burgers against a stunning mountain backdrop at Bar Allioli), Gaucín (vibrant art scene and views), Jimena de la Frontera (flower-bedecked and great views) and Genalguacil, the so-called pueblo museo, where the whole village is an art gallery full of sculptures and other artworks.
El Caminito del Rey is 45 minutes away. You need to book online in advance.
Málaga , Sevilla and Jerez de la Frontera are 1.5 hours by car, Cádiz 2 hours and Granada and Córdoba 2.5 hours. All are accessible by bus or train. Many people include an overnight stay if they visit these cities, in order to have more time to make the most of their stay there.
Please note that if you intend to visit the Alhambra in Granada, you need to book in advance here: https://www.alhambradegranada.org/en/info/ticketsale.asp .
It is also advisable to book sherry tours in Jerez in advance. Just decide which bodega you want to visit and go to their website. We like the González Byass tour.
Paul writes regular blogs on the websites Secret Serranía and EyeOnSpain, where you can read more about some of the places mentioned as well as his musings on life living in Andalucía and articles about the Spanish language. He and Rita also contribute the odd recipe. Go to www.secretserrania.com and www.eyeonspain.com .
Of particular interest might be: